Posted by Founder, Bicycling Monterey
Bike to the Best of Monterey County: 2013 Monterey County Weekly Annual Readers Poll Winners
Below are bike-friendly award-winners for 2013, and they are still worth perusing!
For 2014, click here.
Vote for Bike-Friendly Favorites in the Monterey County Weekly's 2014 Poll
Click here to go vote for your favorites. Deadline:

midnight, Tues, 2/18/14

(deadline was extended).
Consider the more than 200 places, in 18 Monterey County cities, that give discounts on Thursdays to people who bike! Find them all in the Quick Reference Guide: HER Helmet Thursdays – Quick Reference Guide – as of 16 February 2014 – View PDF
There are other categories of interest to bike-lovers too, e.g., best bike shop, best bike trail, best event, and more.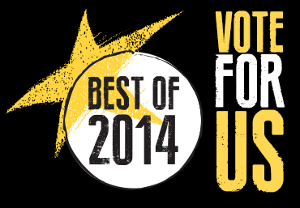 * * * * *
The info below was previously published 3/14/13.
Bike to the Best of Monterey County:
2013 Monterey County Weekly Annual Readers Poll Winners
The following HER Helmet Thursdays spots were honored as 2013's Best of Monterey County in Monterey County Weekly's Annual Readers Poll–plus Editor's Picks!
Seven days a week, check the HER Helmet Thursdays listings. Most have bike-there tips. And on Thursdays, people who bike get a discount at HER Helmet Thursdays spots!
Curious, too, about the "Best Bike Store" winner for 2013? Scroll down.
Congratulations
Please thank the following–and all HER Helmet Thursdays spots–for participating in this long-term sustainability project. HER Helmet Thursdays discounts help sustain our environment and economy by encouraging more bicycling!
Congrats, Bay View Deli & BBQ: Best Place to Discover #Borscht in #Monterey County! [Note: Beginning Feb 1, 2015, Bay View will have a new location and new name: Lighthouse Smokehouse, 794 Lighthouse Ave, Monterey.] http://www.montereycountyweekly.com/news/2013/mar/14/best-place-discover-borscht-2013/ … http://hht.herokuapp.com/home/detail/178 

Valentina's borscht would lift your spirits by its colors alone, even were it not for the yummy taste and the good cheer with which she serves it. And as you can see, on a sunny day, their bayfront deck offers both sun and shade. Rainy day? Great, we need the rain!  Sit in Valentina's large, homey dining room and watch the weather.

Expand 

Congrats to bike-friendly http://hht.herokuapp.com/home/detail/161  @PeterBsBrewPub Best Local Beer/Brewery in 2013! http://bit.ly/ZKO4jx  @mcweekly

The above award winners are listed in reverse order as they appeared in the pages of the Monterey County Weekly, with the exception of the final three, who were active on Twitter early today.

Below are more award winners, who joined HER Helmet Thursdays soon after the 2013 "Best of" awards were announced. Welcome to the following new participants!

39.

HER Helmet Thursdays ‏@HERHelmetThurs 1m @Grasings

Congratulations on being named

#Best

Restaurant in

#Carmel http://www.montereycountyweekly.com/news/2013/mar/14/best-restaurant-carmel/ …

Extra

#bike

-friendly too!

http://hht.herokuapp.com/home/detail/231

40.

HER Helmet Thursdays ‏@HERHelmetThurs 54s

Congratulations

@laBalenaCarmel

, Best New Restaurant in Monterey County!

http://www.montereycountyweekly.com/news/2013/mar/14/best-new-restaurant/ …

& extra bike-friendly

http://hht.herokuapp.com/home/detail/230

41.
HER Helmet Thursdays ‏@HERHelmetThurs 9s
Welcome, Baan Thai, Seaside– @mcweekly's #Best Thai in #Monterey County–to HER Helmet Thursdays project. http://hht.herokuapp.com/home/detail/234

Happy Thursday, Monterey County! https://bikemonterey.org/wp-content/uploads/2010/11/HER-Helmet-Thursdays-Quick-Reference-Guide-as-of-9-March-2013-View-PDF.pdf … For the BEST, as voted by @mcweekly readers, check 3/14 stream @HERHelmetThurs!

Best Bike Store 2013

Click here to read the Weekly's notice about this 2013 award.

Bay Bikes

Þ   Aquarian at Bay Bikes (in downtown Monterey/Old Monterey, next to East Village) – 486 Washington St, Monterey; 831/375-2144.

Þ  Bay Bikes (at the mouth of Carmel Valley, just off Class I path; look up for nearby windmill) –  3600 The Barnyard, Carmel; 831/624-RIDE.

Þ Bay Bikes, 585 Cannery Row, Monterey; 831/646-9090.

(For additional Monterey County bike shops, click here.)